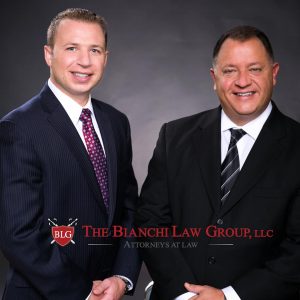 Former Morris County Prosecutor Robert A. Bianchi, Esq., (2007-2013),  has entered into private practice and is the founding partner of The Bianchi Law Group, LLC, an aggressive and results-oriented litigation law firm. Prosecutor Bianchi hand-selects seasoned and tested trial attorneys at his Firm who share his passion and demanding nature when it comes to protecting his clients who are charged with crimes or who are seriously injured due to the negligence of another.
The Bianchi Law Group, LLC., has a distinctive approach and unique philosophy in representing clients. In addition to fighting with vigor and skill to accomplish the optimal legal results for our clients, we strongly believe in "treating" the entire person, not just their legal issue(s). This is especially important in a legal system that can make a client feel dehumanized and alone.
We recognize that our clients come to us many times feeling broken, afraid, alone, and that they are suffering greatly. We understand that there are a host of emotional issues that being charged with a crime and/or being seriously injured present. While alleviating the legal troubles of our clients is paramount, our firm is also extremely attentive to the emotional needs of our clients, as well. We realize that this approach to practicing law is unique to most law firms. We are grateful that we can use our talents and experience to alleviate the suffering of our clients on many levels. It is a great honor for us!
At The Bianchi Law Group, LLC., we use our extensive trial skills and talents, to exhaustively analyze a client's legal matter thoroughly, skillfully, and efficiently. All attorneys at the Firm work on the cases together, (which is an approach many prosecutors often employ), and we are unrelenting on achieving the optimal results for your case.
Prosecutor Bianchi's track record as an excellent and tested trial attorney, and instructor of other trial attorneys, is unquestioned. The Bianchi Law Group, LLC is comprised of attorneys of the Firm, as well as attorneys from other firms that are referred to as "of counsel" attorneys to The Bianchi Law Group. Prosecutor Bianchi has partnered with former Morris County Assistant Prosecutor, David J. Bruno, Esq., (a Major Crimes and Fraud Assistant Prosecutor) to engage in an exciting new venture of practicing law together to advance with great skill and diligence their talents for the benefit of their clients. Both Prosecutor Bianchi and Mr. Bruno, Esq., are Certified by the New Jersey Supreme Court as Certified Criminal Trial Attorneys, an impressive and coveted accomplishment and honor among trial attorneys in New Jersey.  Impressively, Mr. Bianchi is the only Certified Criminal Trial Attorney in New Jersey that has served as a head County Prosecutor who now handles criminal defense matters.  This is a singular distinction among all attorneys in New Jersey that we are extremely proud of.
An unfailing commitment to success at trial has earned the attorneys at The Bianchi Law Group, LLC., the respect of adversaries and the trust and confidence of clients who have criminal charges lodged against them and/or who have been significantly injured in a personal injury case. This is why our attorneys have been asked by professionals themselves to lecture, teach, and train other trial attorneys, police officers, civil rights groups, etc…on how we are able to do what we do with such skill and effectiveness. We are proud and honored to pass our knowledge on to others.
Founding partner Robert A. Bianchi, Esq., was honored to have been nominated by the Governor of New Jersey, with full confirmation of the entire New Jersey State Senate, to serve as the Morris County Prosecutor from 2007-2013. In that position, Prosecutor Bianchi was Morris County's "chief law enforcement officer" in charge of the entire staff at the Morris County Prosecutor's Office, as well as, every police officer and municipal prosecutor in Morris County. Prosecutor Bianchi was, therefore, only one of 21 county prosecutors in New Jersey to hold such a high level government position. This is a very significant and impressive position to hold in the area of criminal law. The experiences gained, and the contacts made while holding such a position as the head County Prosecutor are extremely rare and uniquely important to the clients we now serve.
As the Prosecutor of Morris County, Prosecutor Bianchi was able to manage his office by personally training his attorneys and detectives on proper and effective investigations and prosecutions, making numerous contacts throughout the legal and civic community throughout the state. Rarely does the head County Prosecutor try a case during their term of office. However, Prosecutor Bianchi himself successfully tried a murder case with his now partner David Bruno, Esq., as it was his belief that he needs to lead by example. This was the first case actually tried by a County Prosecutor in Morris county in 20 years.
Both Prosecutor Bianchi and Partner David Bruno, Esq., have tremendous contacts and relationships throughout the entire law enforcement community in New Jersey on a federal, state, and municipal level, and are highly respected for their talents and abilities. These contacts are of immeasurable value to our clients.
Simply put, our ability to know how to prosecute a case is invaluable to our insight and ability to know how to defend our clients. In other words, we know from the "inside" how how prosecutors build their cases, and the weaknesses and strengths of their cases. This is a great advantage to our clients who benefit from our extensive knowledge in this regard.
Our attorneys also represent seriously injured clients and have won millions of dollars in recoveries for them. The aggressive and skilled attorneys, and of counsel attorneys of the Firm, have taken cases that many other law firms have rejected and turned them into multi-million dollar successes. Prosecutor Bianchi alone has won millions of dollars for his clients who were injured due to the negligence of others.
We practice in the federal, state, and municipal courts.