Former Assistant Prosecutor and Special Deputy Attorney General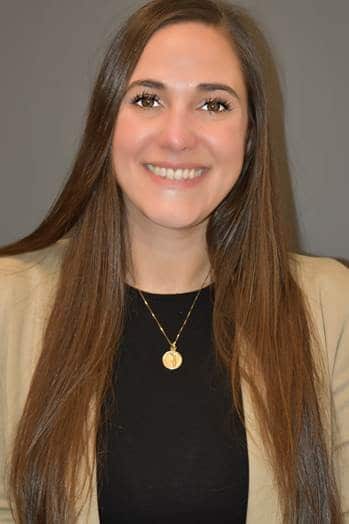 Danielle began her legal career in 2013 as a judicial law clerk to the Honorable John Kennedy of the New Jersey Appellate Division in Newark. There, she researched and wrote bench memoranda on a range of civil and criminal issues, familiarizing herself with how judges analyze important legal issues.
In 2014, Danielle began her career as an Assistant Prosecutor in the Essex County Prosecutor's Office. In her role as Assistant Prosecutor, Danielle has served in many assignments and has handled all aspects of criminal prosecution, from complaint to verdict.
Her experience as a prosecutor included the following:
Adult Trial Team, where she investigated and prosecuted a wide variety of criminal cases, including charges of aggravated assault, attempted murder, robbery, theft, CDS offenses, carjacking, terroristic threats, assault by auto, fraud, burglary, criminal restraint, and other offenses.

Mental Health Court, where she worked in the prosecutors' mental health diversionary unit. There, individuals who suffered from mental illnesses and whose charged offenses were a result of such mental illness could be diverted from vertical prosecution to a program of treatment. If the individual successfully completed the treatment program, the charges against them would be dismissed.

Drug Court, where Danielle handled all aspects of Drug Court prosecution, including pleas, sentencings, and violation of drug court probation hearings. She worked closely with the Drug Court team in weekly meetings with treatment providers, probation officers, the Office of the Public Defender and the Court to address the probationers at all stages of the Drug Court process.

Domestic Violence Unit, where she prosecuted matters of domestic violence in a special assignment at the Essex County Family Justice Center and handled violations of restraining orders with the corresponding criminal offenses. Danielle also presented cases to the Grand Jury and tried several bench trials in the Family Court.

Juvenile Unit, where Danielle handled all aspects of juvenile prosecution including calendar calls, detention hearings, plea negotiations, sentencings, prepared juvenile waivers, and violation of probation hearings.

Detention Hearings Unit, where Danielle was part of the first team of Essex County prosecutors to tackle detention hearings in January 2017, with the start of Criminal Justice Reform. As one of the first prosecutors in the State to handle pretrial detention motions, Danielle also trained new prosecutors on evaluating cases for pretrial detention and filing and arguing pretrial detention motions.
In addition to her role in the courtroom, Danielle served as an advocate to her fellow assistant prosecutors from all twenty-one counties in the State of New Jersey in her role as Secretary of the Assistant Prosecutors Association of New Jersey (APANJ), from November 2018 to December 2020. Prior to that, Danielle served as a Trustee of the APANJ for three years.
Danielle has taught continuing legal education courses while an assistant prosecutor, specifically, she taught courses pertaining to Detention hearings. In addition, she served as co-chair of the Criminal Law Section of the New Jersey Association for Justice's annual Meadowlands Seminar in December 2020. She is also a member of the Essex County Bar Association.

Danielle is a graduate of William Paterson University, where she received her Bachelor of Arts degree in Psychology. In 2013, Danielle graduated magna cum laude from New York Law School, where she was a staff editor on the New York Law School Law Review and served on the Executive Board of the law school's Criminal Law Society. She was also a John Marshall Harlan Scholar at NYLS. The John Marshall Harlan Scholars Program is a rigorous academic honors program specifically designed for law students who performed at the top of their law school class. Danielle served as a member of the Justice Action Center, where she received the award for Outstanding Work on a Capstone Project for creating a website geared specifically toward juveniles in NYC who were exposed to the criminal justice system, explaining their rights and the juvenile justice process. She further received the New York Law School Public Service Certificate, which is awarded to students who have committed substantial time to working in public interest.

In her free time, Danielle enjoys spending time with her family down at the Jersey shore, riding jet skis, paddle boarding, and at the beach. She is also an avid reader, with an interest in books about spirituality, history, and fiction.