Extortion can be a serious crime. In New Jersey, the penalties can be hefty.
It is possible to face prison time if you do not have proper representation. Understanding the penalties and risks associated with extortion in New Jersey is imperative.
Here are several important points about extortion that may help you if you are a victim or being accused of committing the crime of extortion.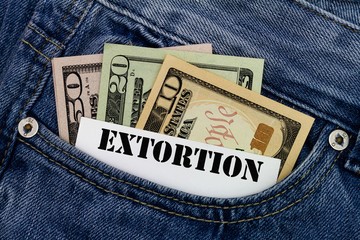 What is Extortion?
N.J.S.A. 2C:20-5 states that extortion occurs when someone illegally gains or attempts to gain property belonging to another by using threats. The "property" can be:
Real estate
Cars
Jewelry
Immovable property
Money
And more
To be convicted of extortion in New Jersey, the following elements must be proven by the prosecutor beyond a reasonable doubt:
That defendant obtained the property of another.
That defendant obtained that property purposely and unlawfully.
That defendant obtained the property by extortion
A person extorts if he/she purposely threatens to
Inflict bodily injury on or physically confine or restrain anyone or commit any other criminal offense;
Accuse anyone of an offense or cause charges of an offense to be instituted against any person;
Expose or publicize any secret or any asserted fact, whether true or false, tending to subject any person to hatred, contempt, or ridicule, or to impair his credit or business repute;
Take or withhold action as an official, or cause an official to take or withhold action;
Bring about or continue a strike, boycott, or other collective action, if the property is not demanded or received for the benefit of the group in whose interest the actor purports to act;
Testify or provide information or withhold testimony or information with respect to another's legal claim or defense; or
Inflict any other harm which would not substantially benefit the actor but which is calculated to materially harm another person.
Penalty for Extortion
Extortion is a serious crime and has serious penalties in the state of New Jersey. It is not taken lightly in the eyes of the court.
Unlike other theft crimes in NJ, the severity of the charge is not dependent upon the value of the property that is obtained or threatened to be obtained. N.J.S. 2C:20-5 states that extortion is always a second-degree crime.
Extortion in the second degree is punishable by 5 to 10 years in prison with a $100,000 fine—even if it is the first offense with no previous record. In addition, an extortion conviction cannot be expunged from your record.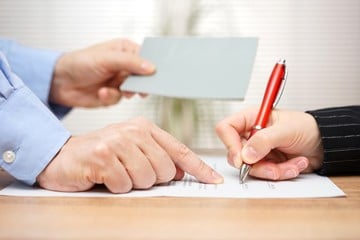 Extortion VS. Criminal Coercion
Extortion and criminal coercion can be very similar in nature. However, there is a distinctive difference.
The main difference between the two is as follows:
The purpose of extortion is to obtain someone's property or money.
The purpose of criminal coercion is to compel someone to do something.
The most distinctive part between extortion and coercion is the object of the threat. Coercion focuses more on limiting a person's movement and actions.
Defense to Extortion Charges
It may feel hopeless but with the right NJ criminal defense attorney, you can defend yourself against an extortion conviction. First, the State bears the burden of proof of your purposeful actions to extort property or money from someone.
The prosecution must prove beyond a reasonable doubt that this was a conscious intent. If you have rightful ownership of the property or money, you may not be convicted of extortion. Additionally, if the victim of extortion owed you restitution, you may not be charged with extortion.
Finally, if your extortion charges cannot be dismissed, you may be eligible to opt for a plea bargain or a diversionary program like PTI to reduce the severity of the duration of your charge.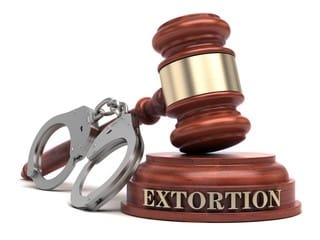 How Can the Bianchi Law Group Help?
It is essential to know that any extortion charge in New Jersey is severe and can result in you receiving life-changing penalties. Having the right legal team can provide you with the maximum benefits.
The Bianchi Law Group is a criminal defense firm in New Jersey made up of a team of Former Prosecutors. Our firm primarily focuses on Criminal Defense, Domestic Violence, DUI/DWI, and Municipal Court cases. Our team of former prosecutors has prosecuted a wide range of crimes and now represent clients in criminal defense. The Bianchi Law Group is equipped with experienced Criminal Defense attorneys in New Jersey to help individuals seeking a New Jersey lawyer obtain the best possible representation and legal outcome for their case.
Certified Criminal Trial Attorneys and Trusted by the Media
The Bianchi Law Group partners Robert (Bob) Bianchi and David Bruno are certified along with only 250 New Jersey attorneys as certified criminal trial attorneys by the New Jersey Supreme Court. Bob and Dave regularly appear as national legal analysts to comment and debate on major news networks such as Court TV, the Law and Crime Network, Fox News, CNN, HLN, MSNBC, and Fox Business.
Contact us to schedule a consultation to discuss how we can potentially assist you with your upcoming case or investigation.